About us
SACCAP Company designs and manufactures standards and custom made industrial valves.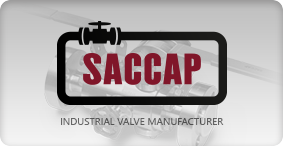 Markets
Storage and/or fluid transportation
Chemicals and petrochemicals
Refining
Exploration & production (Onshore and Offshore)
Energy & steam.
Subsea
Activities
Research & Developpement
Control & Testing
Welding
Painting
Additional treatments
Brief history :
 
Foundation of SACCAP, the company started in Blandy-les-Tours in Seine-et-Marne (F-77), it was launched by Mister DANIEL and was specialised in hanger devices for gutters.

 
SACCAP started to manufacture bronze valves for petrochemical industry
 
Mister LOUST and BROUZES bought the company and Mister Brouzes became CEO of SACCAP.
 

SACCAP bought SAPAG company to GEC ALSHOM group. SAPAG being a world reputed company in safety valves and petroleum valves.

The same year, SACCAP moved to Blois (F-41).

 

Since 2000, SACCAP developed a new range of ball valves and double block and bleed valves aside of it's traditionnal valve range

 

October 2013 is a new turning point for SACCAP, which joins ICARUS together with COYARD company. The new integrated group take advantage of each company forces to become a major actor on the markets and supplies wide ranges of valves.
Organization chart

If you need more informations or if you want to know more, don't hesitate to contact us: This email address is being protected from spambots. You need JavaScript enabled to view it.